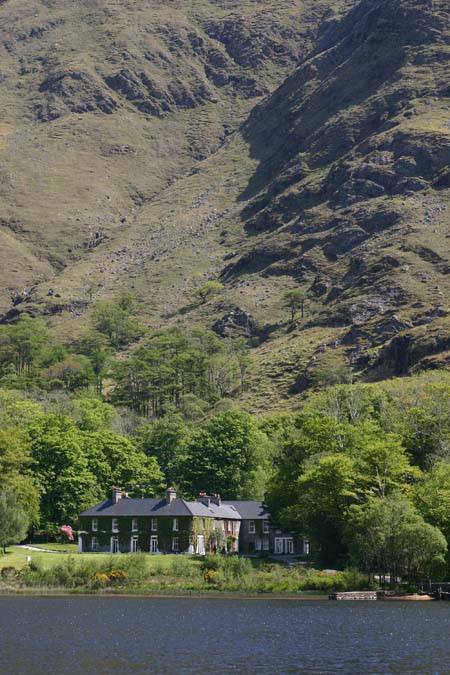 I recently had a very picky freaks/James Ivory/sartoria(rea)listic experience in Ireland, precisely in Delphi, a small and reclusive mountainous region and North frontier of Connemara.
A typical large and classic mansion-lodge owned and run but some fly-fishing celebrity (who was busy fishing in the Bahamas during our stay), it opens year long a few bedrooms to fly-fishing enthousiasts. The landscape around is breathtaking. We arrived on a very grey day to witness three men, dressed head to toe in the proper fly-fishing attire (see below in Picky Freaks), struggling against rain and wind and strong currents on the river in front of the lodge's lawn, the "gullie" bravely driving the boat back in the current again & again until the salmon would accept to bite (apparently the salmon bites the bait because of some defense mechanism and not to eat the bait as salmon refrains from eating when swiming upcurrent in fresh waters-so I was told that evening by a Bavarian gentleman).
The house has a wet room for outdoors clothing (and toweling the dogs..) and tables to weight, clean and wrap your daily catch.
I didn't fish but I did take part in the evening drinks (7:30 pm by the fireplace) and dinner (8:30 around the large dinning room table) at which I was served the largest lobster I had ever seen.